We found a lost cat in our neighborhood that has been hanging around for a few weeks.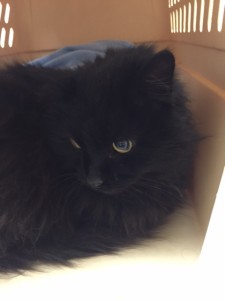 I took him yesterday to animal services and they are sure he had a home.  His teeth look good and he neutered.  All the vet could figure out is that he is male and neutered and looks about 4-7yrs from the look of his teeth.  He is all black and very fluffy and very big eyes.  I would say he is on the bigger side and he was very affectionate.  He also has his front claws.
If anyone has any contacts in the Leaside area to share this that would be awesome.
Thank you so much for the help.  Below is my number is anyone know this poor guy
Stef   416-433-1299